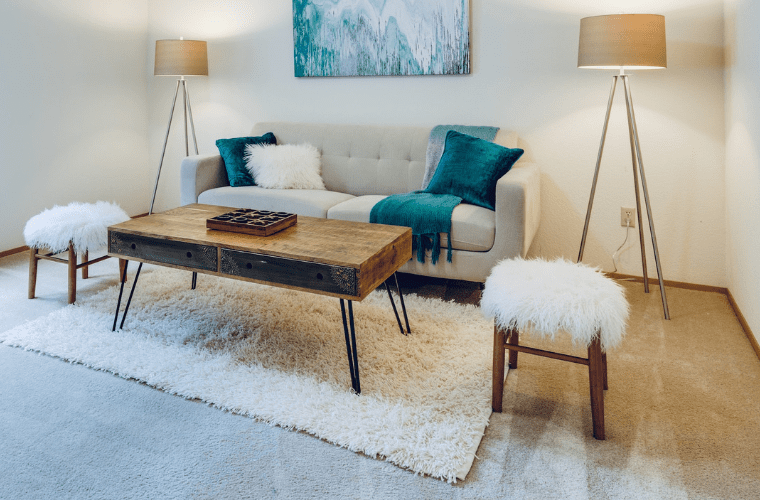 8 ways to make your home feel cosier with a sheepskin rug
10 MONTHS AGO
We're truly in the midst of winter, which naturally leads us to search for ways to add a touch of cosiness to our surroundings. One way to create an inviting environment and introduce some additional warmth is with a sheepskin rug.
Soft and sumptuous, sheepskin rugs can be used in a variety of ways to make your home feel cosier. Keep reading to discover our top suggestions:
Use as a blanket or throw
Our large sheepskin rugs make the perfect addition to a sofa. Wrap yourself up in plush wool, before you settle in for an evening watching your favourite new series.
Soften up an uncomfortable chair
Do you have a chair in your home that you love the look of, but it's simply just too uncomfortable to sit on? Rather than selling it on to a good home, add a layer of comfort by draping it in a small sheepskin rug.
Layer on top of other rugs
While beautiful, rugs made out of jute and similar materials simply aren't all that comfy underfoot. One way to solve this issue, is by popping a sheepskin rug on top, adding a cushiony softness that feels great to walk on.
Create a play area
Looking for a way to add a touch of comfort to a nursery or child's bedroom? A sheepskin rug is the perfect solution for creating a soft area for your child to play on.
Add comfort to dining room chairs
Improve the comfort of your hardback dining room chairs by draping a soft sheepskin rug over the back. We promise your next dinner party guests will thank you for it.
Enhance your bedtime
With the cold weather set to stick around for a few more months, now's the perfect time to make your bedroom into a cosy and warm haven. Either use a sheepskin rug as an underlay between your mattress and bed sheet or drape it over your bedsheets as a comfortable throw.
Provide your pets with a warm bed
Are you the owner of a four-legged friend? If so, treat them to a sheepskin rug as a pet-bed so they have somewhere comfy to rest after playtime.
Cosy up your at-home office
With more and more people working from home, the need to create a pleasing home office has increased. Bring a touch of comfort to your setup with a sheepskin rug.