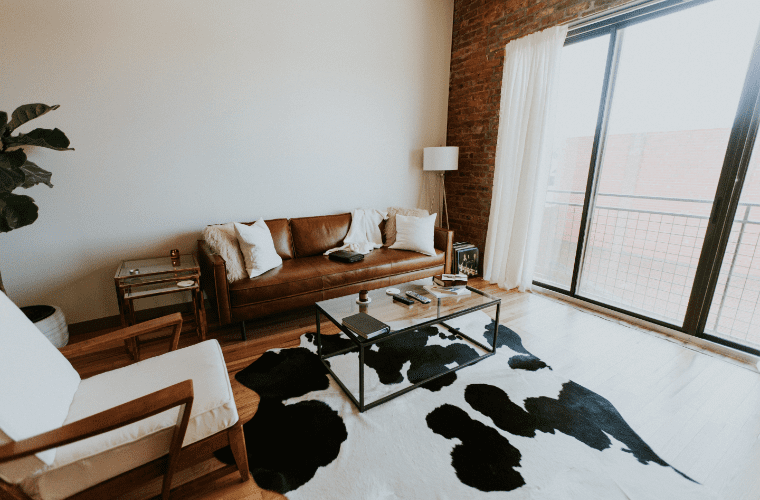 How to keep a cowhide rug from sliding
11 MONTHS AGO
After months of hard work, you've finally finished redecorating your space and it looks exactly as you'd imagined it would. From the stylish furniture to the luxurious cowhide rug in the centre of the room, everything is perfect - except for one small issue.
Despite its attractive appearance, the cowhide rug seems to have a mind of its own and keeps slipping out of place. This can not only be frustrating as you constantly have to readjust it, but it can also pose a safety hazard. If you're wondering how to keep your cowhide rug from sliding around, here are a few helpful tips:
Size matters
The bigger your cowhide rug is, the heavier it will be, and the less likely it'll be to slip under your feet. If your space accommodates it, consider investing in a large rug
Anti-slip underlay
An anti-slip underlay can be used to hold your cowhide in place, preventing it from moving around and helping to ensure it stays in place, flat against the floor.
Velcro
Like adhesive tape, Velcro can be used to keep your rug in place. Simply attach one side to the floor, and the other side to the bottom of the rug. The two sides can then be pressed together to form a strong bond.
Floor choice
When laying your cowhide rug, choose a room with a hardwood floor or non-gloss tiles, as these will be less slippery than floors made from materials such as high-gloss tiles. If you're layering a cowhide rug over a carpet, a denser pile will decrease the possibility of the rug slipping.
Spray-on backing
An alternative to an anti-slip underlay is anti-slip rug spray. This is a good option for cowhides, which are irregularly shaped, as it means you don't need to cut an under-lay to size or settle for one that's smaller than your rug.
Carpet tape
If you don't like the idea of using a spray-on adhesive, consider using a double-sided carpet tape. This can be applied to the bottom of the rug, then attached to the floor, keeping it in place and preventing any slipping.
Some websites proclaim that hot glue or silicone caulking can be used to attach your cowhide rug to the floor. However, it's important to know that these substances can damage the rug, while also leaving unsightly residue on the floor.